Welcome to the Gladiator Heroes Wiki, home of all things Gladiator Heroes!
Working directly with the creators of Gladiator Heroes, this Wiki aims to bring you the most up to date information possible! Here you will find information on the game's features, such as gladiator classes, game mode features, and much more!
We encourage as many editors as possible to help make the community great. Just take a quick look at our Wiki Rules and jump right in! 
About Gladiator Heroes
You've fought hard your whole life, so now is your chance to fulfill your dream of becoming the greatest lanista in the whole Empire! Build your city, train your gladiators and create your empire!
Gladiator Heroes is a free strategic game currently available for iOS players in Australia, Belgium, Philippines and Spain, and for Android players only in Spain. You are taken back in time to the gladiator games of Ancient Rome, where you are a lanista – a trainer of gladiators. You must build up your city, the centre for your gladiators and the source of your wealth. The more prosperous your city the better equipped and trained your gladiators will be.  Gladiator Heroes takes you through a map of hardy battles and epic arenas. As you progress through the map, your gladiators will rely on you for strategy to win battles. You will face the fiercest opposition on your journey to glory.
Show your strength, defend your honor, build your empire and become the greatest lanista in all of Rome.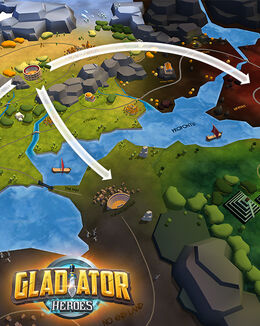 FEATURES
Control the construction and growth of your city.
Fight in a variety of impressive arenas throughout the empire, from the sweltering desert to the snowy tundra.
Win gold, weaponry, and new skills in deadly showdowns.
Place your gladiators strategically to take out their opponents.
Design, name and train your gladiators, then watch as they improve and become into indomitable killers.
Gladiator Heroes, created by Genera Games, has been four years in the making.
New to Gladiator Heroes?
This wiki is the page for you! With all the stats you could ever need for Gladiator Heroes, as well as strategy blogs, frequently asked questions, hints and tips and areas for you to chat with other players, all your questions will be answered here.
Latest activity